Garden Veggies Galore!
Aug 20, 2023 ● By The Hood Magazine
Tangy & Refreshing Pineapple Salsa
Baked Parmesan Tomatoes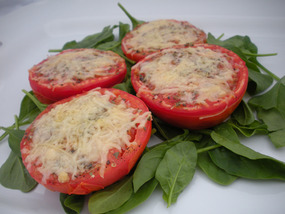 Ingredients
4 tomatoes, halved horizontally
1/4 c freshly grated parmesan cheese
1 tsp chopped fresh oregano
1/4 tsp salt
Freshly ground pepper, to taste
4 tsp extra-virgin olive oil
Directions
Preheat oven to 450° F.Place tomatoes cut-side up on a baking sheet. Top with Parmesan, oregano, salt and pepper. Drizzle with oil and bake until the tomatoes are tender, about 15 minutes.
Garden Goulash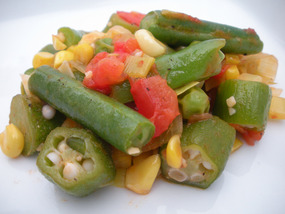 Ingredients
4 tbsp butter
1 large tomato, seeded and chopped
1 leek, finely chopped
3 cloves garlic, smashed and peeled
Salt and pepper
2 ears corn, kernels scraped off the cob (about 1 c)
1 lb garden peas, shelled (about 1 c)
1 small yellow squash, chopped
¼ lb green beans, halved crosswise
¼ lb okra, sliced
2 tbsp chopped fresh basil
Directions
In a large skillet, melt the butter over medium-high heat. Add the tomato, leek and garlic and cook, stirring occasionally, until tender; season with salt and pepper. Add the corn, peas, squash, beans and okra and cook until the vegetables are al dente, about 15 minutes. Toss with the basil and serve.
Tangy & Refreshing Pineapple Salsa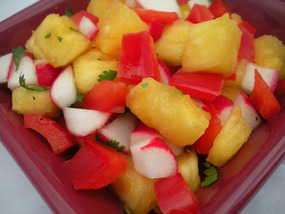 Ingredients
A medium-size pineapple, peeled, cored, and cut into small dice.
6 large radishes trimmed and diced
A medium yellow, orange or red bell pepper, diced
4 tbsp chopped fresh cilantro
Freshly squeezed juice of a lime
Fresh ground salt and pepper to taste
Directions
Chop the pineapple up into bite sized pieces, along with the pepper and radish - making sure the dice are roughly the same size, and the amount of pineapple equals the amount of radish and pepper, more or less.
Add the cilantro and salt and pepper. Mix it all together in bowl, and serve immediately.