Sports Equipment Savings
Jul 07, 2014 04:14PM ● By Hood Magazine
By Shaina Herrmann, http://shainasdeals.com 

Play It Again Sports is a great option for selling your well cared for, unused sports equipment. You can then put that money towards the new items you need. For additional savings, head on over to Play It Again Sports online at playitagainsiouxfalls.com to find coupons that will help you save on new soccer and baseball gear.
Only purchase what you need. It may sound easy, but when you are in the store and start to see the equipment with all those fun bells and whistles, it can be quite a challenge! Remain grounded, and stick to purchasing only the basics. This goes for extra uniform pieces as well. If you know your child is not going to need extra baseball pants, there is no need to shell out an additional $45 for them.
Shopping online is a great way to save and oftentimes websites will offer flat rate or free shipping.  For example, SoftballSavings.com is only $6.99 flat rate and 6pm.com (shoes and apparel) offers free shipping on all orders. In addition to your online savings, be sure to check for online coupons for any sites that you are ordering from. One great site to refer to is RetailMeNot.com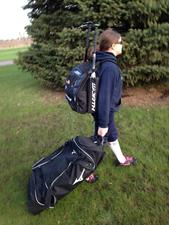 Take exceptional care of your current sporting possessions.  In many cases, the quality of care provided to the equipment ultimately decides how long you'll get use out of the product.  Rather than purchasing new equipment each season, take time to care for your purchases so that they might be able to last through multiple seasons and ,maybe, through multiple children!
Buy in bulk with other parents from the team. Gather together to purchase the smaller things that often come in bulk packages. If you shop for items in bulk online, you will also save by dividing up the cost of shipping among all of the parents.
Browse through Craigslist, eBay, Salvation Army, and other thrift stores for deals on gently used equipment.
Yard sales can be an excellent money saving resource. You need to be diligent and intentional when searching through ads for yard sales. Always show up just after the sale has begun to get the best deals. This could take some time, but it could result in saving you hundreds of dollars.
Ask Around! Be sure to ask the older children who will be leaving the sport (and their parents) if they would be willing to part with their equipment once they are through with the season. Rather than having the equipment gather dust in the garage, they may be willing to give it away or sell it to you at a great price.